Try now Calculate your revenue potential with Verbolia !
Software to create SEO optimized pages for e-commerce
Find Keywords.
Launch Pages.
Boost Traffic.
Discover untapped long-tail keywords from your product catalog and auto-generate SEO optimized pages driving 30% more organic traffic.
See Verbolia in action
Verbolia in action
Watch our demo video
Trusted by global e-commerce leaders
With a simple click
How Verbolia boosts traffic
Verbolia Pages target specific long-tail keywords to rocket your search engine rankings and bring in loads of organic traffic. Synced with your product catalog and powered by intelligent search, they deliver engaging user experiences. Dream up all the pages your heart desires on the Verbolia platform and watch them come to life, leaving you more time for other fun stuff! 🚀✨🎉
See Verbolia in action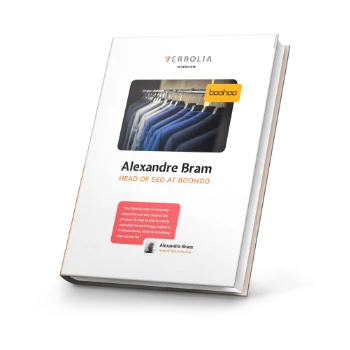 Boohoo case study
Verbolia helped Boohoo achieve a 7-figure extra revenue by generating thousands of SEO optimized pages of which 70% rank in Google's top 10.
How did Boohoo skyrocket using Verbolia?
Built for established e-commerce players
Will your e-commerce platform benefit from Verbolia?
To truly harness the power of Verbolia and see a surge in organic traffic, your e-commerce site must have already established its authority and branding. Search engines like Google prioritize sites with a strong reputation, and that's where Verbolia shines! To make the most of our services, ensure your site meets the following requirements:
Existing SEO traffic
Is your e-commerce site already a hit, with 100,000 or more monthly visits from organic sources? That's a sign search engines trust and value your online store.
Product catalog
Does your product catalog feature at least 3,000 products? That's the sweet spot for Verbolia to work its magic! We'll uncover and create thousands of new long-tail keywords that specifcally answer a search egine user's need.
Input your e-commerce stats and let us calculate the potential revenue when harnessing the power of Verbolia.
Experience the Verbolia difference
Verbolia is crafted for
Unlock the full potential of your ecommerce venture without the need for additional IT resources.
Ecommerce leadership
You understand the SEO potential of building optimised product listing pages at scale but you don't have the resources or the expertise to tackle it?
Let the Verbolia SEO experts handle the long-tail for you.
No IT-resources needed during setup.
SEO specialists
You know which long tail product listing pages you want to build and which SEO standards they should meet but you're lacking internal IT-resources?
Start building pages with 1 click within a couple of weeks
Manage every SEO detail within the Verbolia platform
Marketing agencies
Your e-commerce customers want super specific product listing pages for all keywords you identified for them? But you can only advise building them?
Easily find and manage keywords for which Verbolia creates pages
Monitor performances and easily report to your customers
A simple and scalable way to auto generate dedicated product listing pages.
Verbolia in four simple steps
How does Verbolia boost traffic and revenue?
Your product catalog is always evolving, and so are the ways customers search for products on search engines. So, why have a static category hierarchy? Discover how people search for your products and improve your category organization by creating numerous product listing pages efficiently.
Video testimonials
Boohoo's skyrocketing traffic
Verbolia helped Boohoo achieve a 7-figure extra revenue by generating thousands of SEO optimized pages of which 70% rank in Google's top 10.
Featured
How did Boohoo succeed?
Alexandre Bram, Head of SEO at Boohoo, explains how they scaled organic traffic to a new level. Learn how Boohoo overcame its platform limitations and now seamlessly builds product listing pages that are automatically linked to their category pages.
Adevinta
Discover Verbolia through the lens of Esteve Castells, Head of Global SEO at Adevinta.
Decathlon
Join Loïc Hélias, the Head of SEO of Decathlon, as he discusses their collaboration with Verbolia.
Ripley Chile
Explore the perspective of Toncy Dunlop, Ripley's SEO Manager, on how Verbolia drives results.
Verbolia ROI calculator
Calculate how Verbolia can boost your e-commerce platform.
Drawing on years of experience with a diverse range of e-commerce shops of all sizes, industries, and locations, we've learned which indicators drive growth and therefore how much revenue Verbolia can generate after just 12 months.
Monthly SEO visits indicates your current capacity to drive visits from search engines
Average order value and Conversion rate: the higher the faster your return on investment
Lets get started on something great!
Join over 100 companies already boosting their traffic with Verbolia.
Request a demo