Case study
Alexandre Bram about Boohoo's skyrocketing traffic.
Meet Alexandre Bram, Head of SEO at the Boohoo Group. Join in as he shares their approach to scaling organic traffic. Learn how Boohoo navigated platform limitations, enabling the automatic linking of product listing pages to their category pages.
of pages in Google Top 10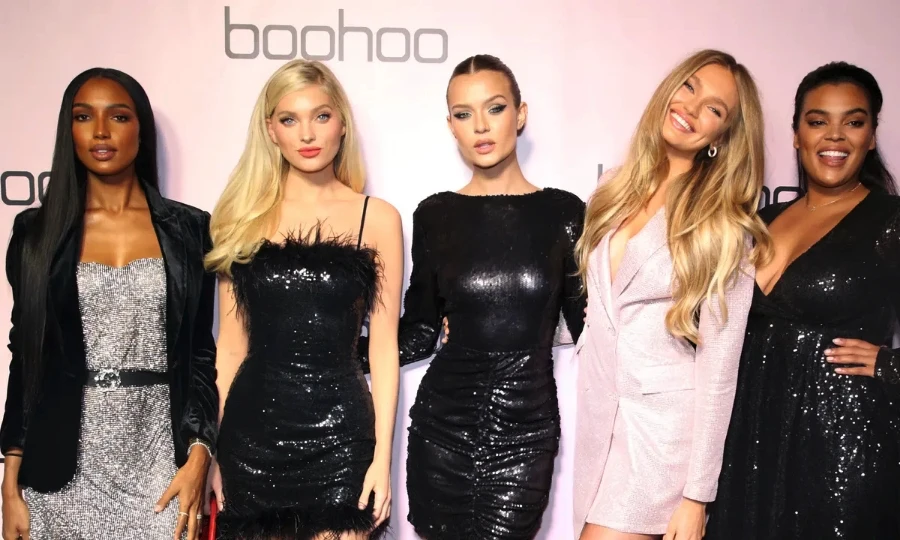 Boohoo
Boohoo is a British online fashion retailer founded in 2006 and aimed at 16–30 year olds.
2,352 employees
16 years in business
£856.9 million sales in 2019
+36.000 products
About Alexandre Bram
Let's start at the beginning, can you tell us a little bit more about who you are and what your role is at Boohoo?
Hi, I'm Alexandre Bram. I've been a part of the Boohoo group for six years and currently serve as the Head of SEO. In this role, I oversee everything related to SEO and have played a key role in the group's acquisition strategy. I have helped migrate and integrate each brand acquisition into our e-commerce platform. On a daily basis, I manage Boohoo's SEO team and provide support to the group SEO team, which is made up of 20 people. SEO touches almost every department within the business, so it's important that we work closely with various functions to drive growth.
"The reality is that you can cost-effectively build traffic. And that's where I think it was a clear win for Verbolia: you're implementing a technology that very large US brands are using!

Alexandre Bram

Head of SEO at Boohoo
The company has an international presence, with websites in multiple countries and has the ability to ship products all over the world. Boohoo's portfolio of brands includes Boohoo, BoohooMAN, PrettyLittleThing, Nasty Gal, MissPap, Karen Millen, and Coast, among others.
75% – 80% of the clothing sold by Boohoo is produced in Leicester.
£1.235 billion revenue in 2020.
As you mentioned, the Boohoo group has acquired many brands through its acquisition strategy. Do these brands operate individually or does the group oversee all initiatives?
Marketing and product development are handled separately for each brand to maintain their unique identities, while IT functions are centralised at the group level. This allows the group to efficiently manage technical aspects while still allowing each brand to maintain its own distinctive branding and product offerings.
Could you describe how the teams involved in SEO are structured within the Boohoo group?
Each brand within the group has an SEO team to support the channel. These teams may be shared among multiple brands or dedicated to a specific brand.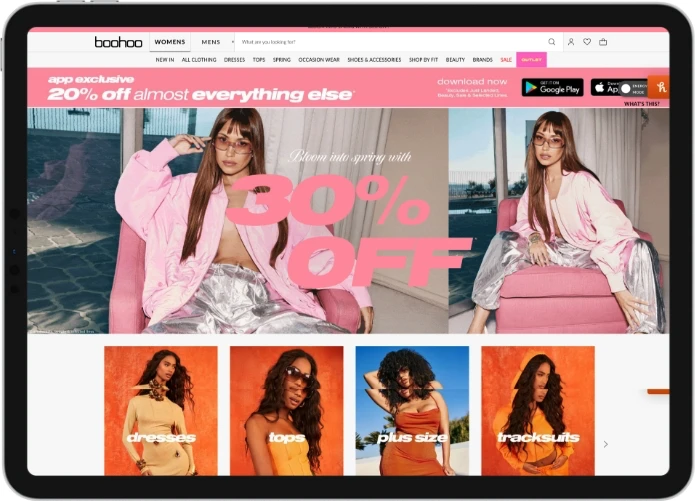 At the group level, knowledge is exchanged and processes are optimized to benefit all teams. I am currently the main technical point of contact, but the team is building expertise internally.
The SEO team is closely integrated with other business functions, as every team has the potential to support our SEO efforts in some way. Regular check-ins ensure that we are all working towards the common goal of driving as much traffic as possible.
Getting to know Verbolia
How did you actually first hear about Verbolia ?
Following the acquisition of Debenhams, I became aware of the challenges in maintaining and scaling the number of landing pages on the site. With limited time to replicate the previous set-up, I needed to quickly research options that would enable me to maintain and increase the number of pages, and recover lost traffic.
I was familiar with the technology, as I had previously investigated it three years ago. I reached out to suppliers that I knew, and also leveraged the team to find additional suppliers to evaluate.
"Verbolia's proposal was far superior than any other tool provider I've met in the traffic acquisition space. The Verbolia team was extremely responsive and very close to the product.
They were able to clearly articulate the technology, explain it in simple terms, which is something that excites me.

Alexandre Bram

Head of SEO at Boohoo
Since you mentioned Verbolia's superiority, was it primarily this factor that led to your choice, or were there other specific reasons?
For me, the ease of integration was a major plus. Verbolia's integration with
Salesforce was already in place, it made the process seamless.
From the discussions I had with other vendors in the space, none of them had a
technical solution as comprehensive as yours, making you the only one on the
market to offer such a service.
Given the importance of integration ease, as you and many of our customers point out, it's intriguing that it was your primary reason for choosing Verbolia…
As a large company, we constantly face the challenge of prioritizing initiatives
among stakeholders who each want to push their own priorities. This can make it difficult to estimate the effort required to integrate new solutions, particularly when the potential impact is uncertain.
However, if the solution is easy to integrate, even if it is untested within our own business, we can consider it to be low-risk. In this case, our decision to implement the solution was the correct one given the minimal resources required from our side.
The fact that your company was responsible for the majority of the work involved was a key factor in making the project viable and successful.
General SEO approach
How did your SEO approach look before & after implementing Verbolia?
We were already performing very well in terms of search visibility, but we faced
a bottleneck with long-tail keywords. The main question we had was how to effectively expand our reach in this area?
One of the options I considered was to open the faceted navigation and
implement specific rules, in order to create a large number of product listing
pages at scale in a safe and efficient manner. However, Salesforce did not
provide an SEO-optimized way of doing so. It did not allow for the customization of metadata or the ability to add content to those pages.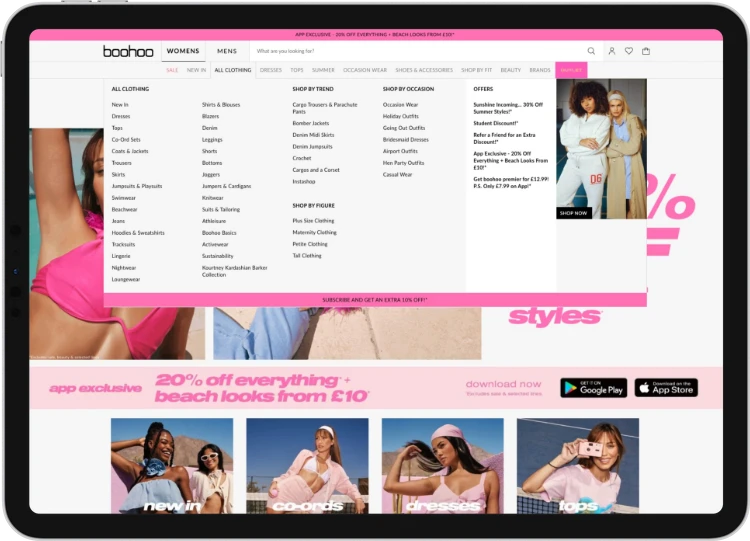 Additionally, the platform lacked flexibility in terms of control over the
architecture and internal linking. Although it was technically possible to achieve, it would have been a complicated and labour-intensive process with high development costs and a significant effort to mitigate risks and achieve the desired outcome. The effort versus the potential return did not seem worth it.
"Verbolia offered a straightforward solution to this challenge.Their out-of-the-box solution provided a lot of flexibility for creating and managing landing pages at scale, and it seemed like a no-brainer for us to grow our SEO quickly.They were able to clearly articulate the technology, explain it in simple terms, which is something that excites me.

Alexandre Bram

Head of SEO at Boohoo
Verbolia addressed another problem we had: the time-consuming process of manually populating new landing pages to capture traffic. Manually populating pages for specific search terms was possible, but it was a bottleneck for scaling since we did not have the resources to do it. We had attempted to find a solution internally, but it was not satisfactory.
"Verbolia had the technology that allowed the landing pages to maintain themselves. Since they are automated, you have the flexibility to create pages and optimise them while making sure that the merchandising rules are properly configured so that the product is relevant
on that page.

Alexandre Bram

Head of SEO at Boohoo
And that's it! There's nothing more to do after that. There are a lot of things to consider, but the tool is there to be used. You just have to allocate the time to really take advantage of it.
"Today, I believe, we're only tapping into 20-30% of what the Verbolia tool can really do on that page.

Alexandre Bram

Head of SEO at Boohoo
Porgammatic SEO: landing page creation
Could you describe in a few words what the process of creating pages was like before Verbolia? What were the steps you had to take to get these pages live without the technology ?
The main challenge we faced was having sufficient resources to not only create
new categories but also maintain them at a high volume.
The process of populating these categories with products was done manually by our Visual Merchandising team, so it became difficult to keep up with the demand for thousands of landing pages that needed to be updated and stocked with products. This led to the issue of empty pages, which is detrimental to our site.
From an IT perspective, we have a process in place for making requests and
prioritizing them, but it's not always as quick as we'd like. We also have to
consider the potential business impact and the overall company before pushing for a specific solution.
It's important to find a balance between the desire for progress and the need to
prioritize the most impactful changes for the business.
The implementation
Could you tell us about the implementation process of Verbolia? The collaboration with the team, how long it took, what the experience was, etc..?
Ultimately, the Verbolia team was very responsive and proactive in providing swift solutions. They were able to quickly make necessary changes to help us overcome challenges.
Multi-brand roll-out
If you start using a technology, as is the case with Verbolia, do
you usually extend its deployment to other brands within the group?
The Verbolia solution was initially tested as a proof of concept with Boohoo to
show its potential value to the company. If successful, it would be scaled and
integrated into additional brands. At the time of this interview, Nasty Girl was
scheduled to go live with Verbolia on August 8th. (interview done before the 8th of August 2022)
"Overall, the return on investment (ROI) for Verbolia has been higher than expected, and it has been well-received by the Boohoo group as a whole.

Alexandre Bram

Head of SEO at Boohoo
Verbolia not only helps with landing page management and scalability but it is
also seen as a performance channel and a useful tool for SEOs within the group.
It has gained support from the other brands thanks to my endorsement.
For me, it's a tool that falls into the no-brainer category as it's an enabler
delivering value at a very strong ROI.
The platform
What would you say are your favourite features of the Verbolia platform ?
One of my favourite features is the bulk upload function, which allows us to make changes quickly and efficiently at scale and also allows us to customize the final output through external modifications.
I also love the auto-categorisation of products and the automated internal linking solution.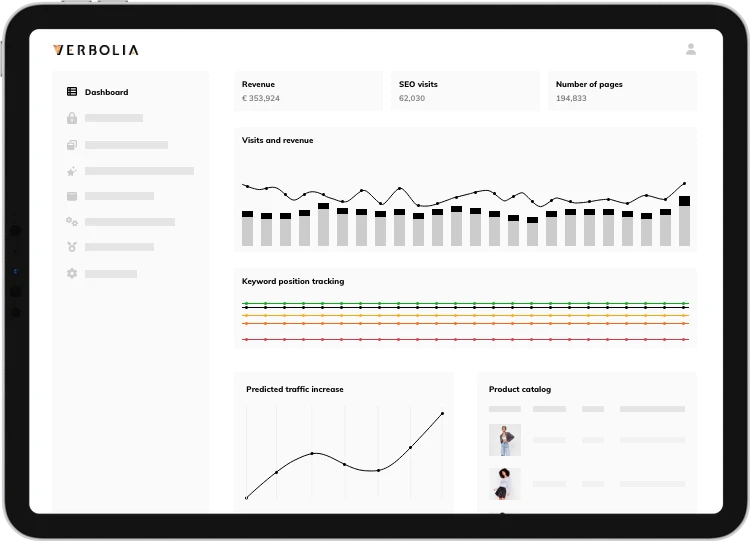 "When I did the speed optimization on the template, I was able to do that in a couple of hours, get them online and it was done.

Alexandre Bram

Head of SEO at Boohoo
The keyword management empowers my team to make a lot of changes on
their own and the preview feature for template management is very useful for
testing if all the elements are working correctly before we push them live.
The bottom line, it's a very well thought & designed tool!
The technology
If you were to go to the Boohoo board and present the Proof of Concept (POC), how would you describe our platform, in one sentence, in terms of trends and technology?
A proof of concept is a low-risk way to test new technology, and in this case, the
potential benefits made it easy to convince the business to move forward with
Verbolia. With Verbolia, we can create scalable product landing pages, identify
opportunities, and maintain and retire pages automatically. These pages are fast, which helps us capture traffic that would not be possible otherwise.
We also stay in control and make changes to merchandising rules at any time,
and the automated linking helps with quick page discovery. Overall, Verbolia's
solution offers numerous benefits and will become a key support in our SEO
strategy.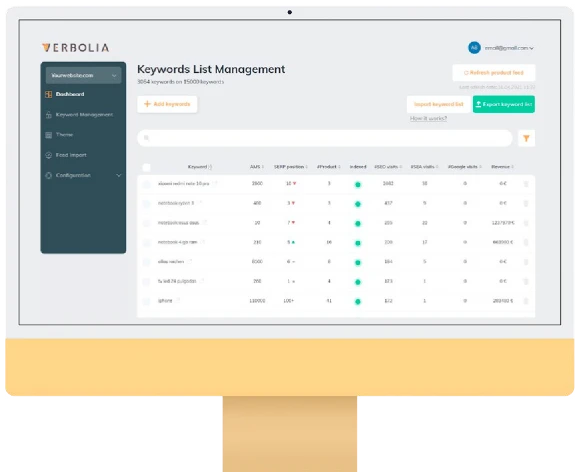 The Results
With Verbolia generating substantial revenue and SEO visits for Boohoo UK, and placing half of the pages in the top 10, can you summarize the key areas where Verbolia has made the biggest impact on your KPIs?
Verbolia has had a significant impact on our KPIs for Boohoo UK, with close to
seven figures in revenue generated and 50% of pages ranking in the top 10 for
SEO visits.
In the past three months, the solution has grown exponentially and we've seen
a steady increase in clicks through Search Console.
"My goal is to reach 10 million visits annually with Verbolia, and based on current trends, I believe this is achievable. Overall, the solution has been a fast-growing and successful
part of our SEO strategy.

Alexandre Bram

Head of SEO at Boohoo

Boohoo SEO visits in 2022
That's great to hear! We can tell you that for a lot of clients today, we position ourselves as the traffic acquisition technology. Foor Boohoo, we're just starting to tap into the 20-30% potential. Are there other significant KPIs you'd like to mention?
Speed is another very important KPI for us. Our Verbolia pages consistently
outperform other categories in terms of speed, with a PSI score of 90+ and faster on-load times by almost 40%. This impressive speed has a direct correlation with higher conversion rates.
On average, our pages saw an improvement in conversion rates of 5-15%
compared to traditional product landing pages with similar stock levels. In other words, our fast pages translate to a better experience for our customers.
"I firmly think the Verbolia platform could become one of the most intelligent tools at some point, which I think will be pretty exciting to do. part of our SEO strategy.

Alexandre Bram

Head of SEO at Boohoo
Lets get started on something great!
Join over 100 companies already boosting their traffic with Verbolia.
Request a demo