Blog article
Boost Your E-commerce SEO Traffic with Verbolia's New Traffic Opportunity Tool

The challenge of increasing organic traffic for e-commerce sites
As an e-commerce director, you're aware of the importance of securing a high rank on search engine results pages (SERPs) to drive traffic and boost your site's performance. However, with the ever-increasing competition for top spots in SERPs, it's becoming increasingly challenging to find new traffic opportunities that can lead to more website visits and, ultimately, conversions.
That's where Verbolia's new traffic opportunity tool comes in. Our powerful tool can help you find new ways to attract visitors to your site based on the products in your catalog, giving you an edge over your competitors. In this blog post, we'll take a closer look at how the tool works, and how it can benefit e-commerce directors looking to increase their site's traffic.
The benefits of Verbolia's traffic opportunity tool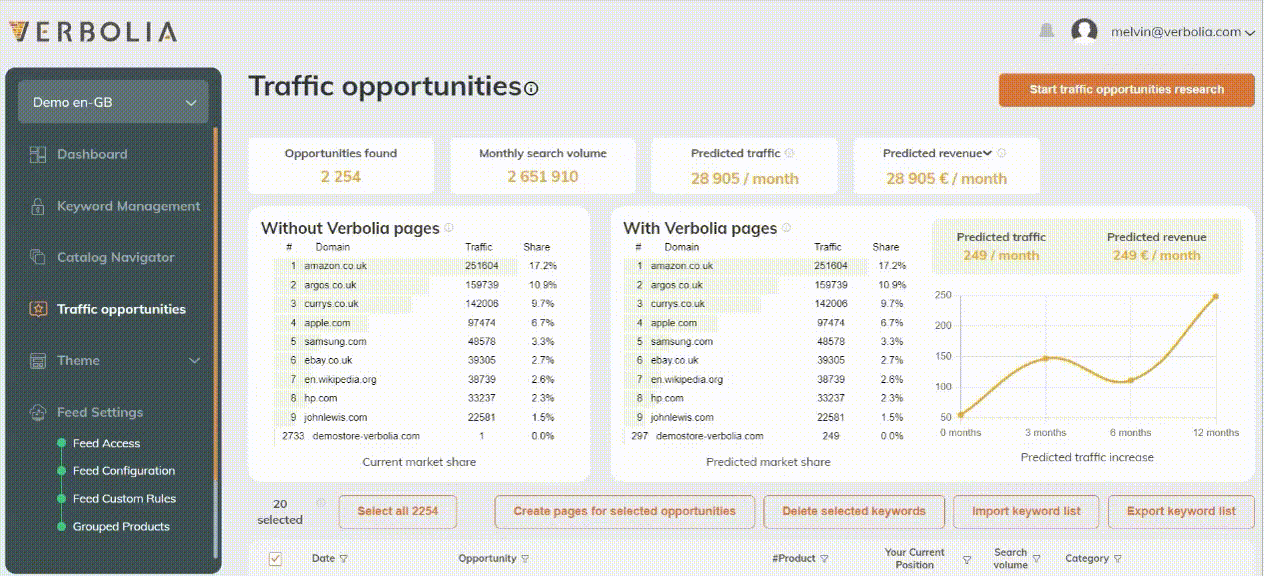 Verbolia's traffic opportunity tool is designed to help e-commerce sites identify new opportunities to attract traffic to their site. By using a variety of sources, including your product catalog, seed keyword list, Google Analytics, and Google Search Console, partners and internet providers, the tool conducts a comprehensive keyword analysis using natural language processing algorithms and generates a list of keywords that you can use to optimize your site's content and attract more visitors. The best part ? The list is deduplicated, or if you prefer in simpler terms, keywords that are too similar are deleted. Deduplication is usually a tedious task as it means every keyword from the list should be compared with all other keywords from the list. Verbolia makes this problem seamless with algorithms that eliminate keywords with similar meaning by looking at string similarity between keywords, product overlap, and Google search results.
But the tool doesn't just generate a list of deduplicated keywords – it also provides a variety of data about each keyword, including monthly search volume, SERP position of your current best performing page, SERP position of your Top 10 competitors, number of matching products in your catalog, and most occurring category among matching products.
Verbolia also calculates your current organic market share for the given keyword list and shows you where you rank compared to your competitors. With historic organic visit data from +150 customers on almost 1 million pages across the world, Verbolia knows how much SEO traffic you can expect to attract when creating a product listing page for each keyword. The tool shows predicted SEO visits 3 months, 6 months and 1 year after launch so you can learn how much extra traffic and revenues you can expect and where this will come from.
How does it work?
Using Verbolia's traffic opportunity tool is easy. Here's a step-by-step guide to how it works:
Click on the "Start Traffic Opportunities Research" button.

The first crucial step in this process is to give Verbolia access to your Google Search Console and specify your Google Search Console domain. By providing this information, Verbolia will be able to retrieve all queries you currently generate search impressions for and feed them into the traffic opportunity research tool.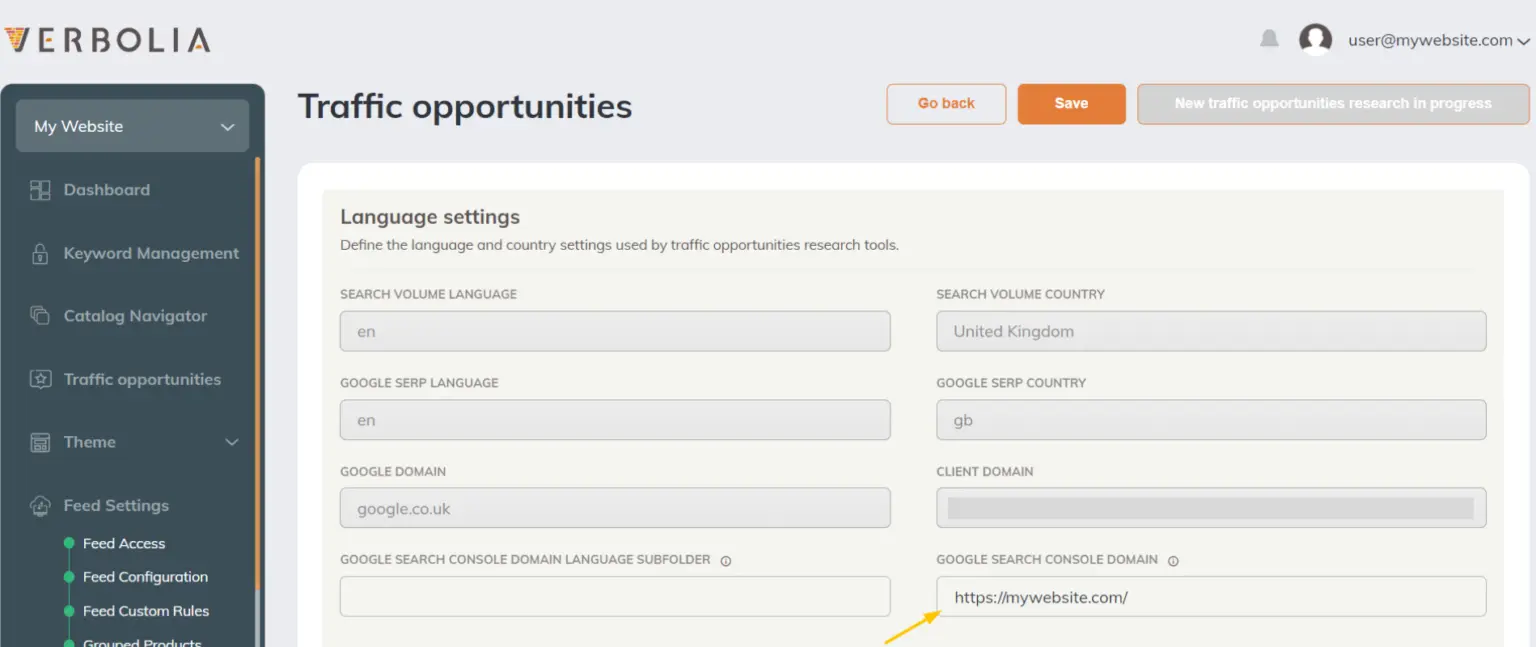 Next, you'll need to select other keyword sources to feed the tool with keyword data. You can select:
your product feed: product titles will be broken down and combined with feed attributes to create keyword combinations
a seed keyword list: upload a keyword list with keywords of your choice
Google Analytics: search terms are retrieved and used as keyword source
SimilarWeb: a third party provider is queried to retrieve keywords for which your competitors rank
Google Search Console: search queries for which you currently appear in the search results
You can combine any of these sources to base your traffic opportunities research on.

The next step is to define your keyword generating settings. To generate new keywords based on the selected sources, you can activate Ngrams.

N-gram is a technique used to generate new keywords based on the existing ones. It is particularly useful when you want to identify long-tail keywords that users might use to search for your products. Essentially, n-gram breaks down words and phrases into smaller parts and combines them to create new keyword variations. For example, if the original keyword is "black leather shoes," n-gram can generate new keywords such as "black leather sandals," "leather shoes for women," and so on.
Each of these techniques will help you discover more traffic opportunities. The tool also allows you to set certain rules to exclude specific attributes you don't want to be added to the keywords.
Next, you can filter your keywords to clean the list and get rid of irrelevant keywords. You can remove keywords based on criteria (for example keywords with a specific number of characters, with special characters, etc. ), and define a minimum number of matching products. The tool allows you to deduplicate using different similarity thresholds and to remove keywords if they already rank in top SERPs positions.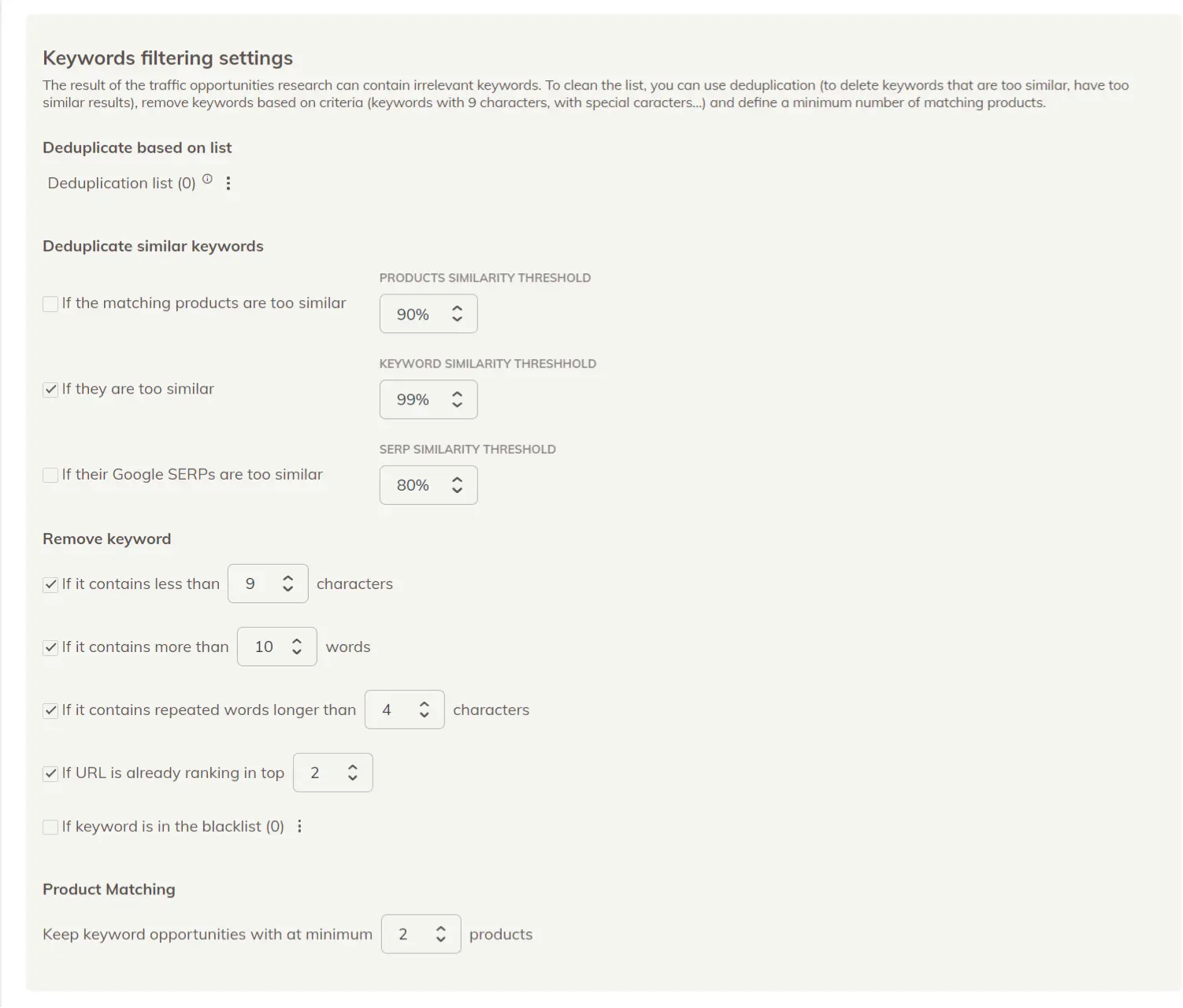 Then you can set your output settings. In other words, you define the data you want for each keyword returned by the traffic opportunities research. You can select and combine the following attributes: monthly search volume, SERP position of your current best performing page, number of matching products in your catalog, and most occurring category among matching products.

Once you have completed all of the previous steps, you'll be able to launch your keyword research and uncover valuable traffic opportunities for your e-commerce site. Verbolia's tool will provide you with a detailed dashboard that shows you the opportunities found, monthly search volume, predicted traffic, and predicted revenue given your average conversion rate and order value.
You'll also have the option to preview your products for each identified keyword and see the evolution of predicted traffic for that keyword  when using Verbolia. This level of insight and control allows you to make informed decisions and prioritize which opportunities to pursue first.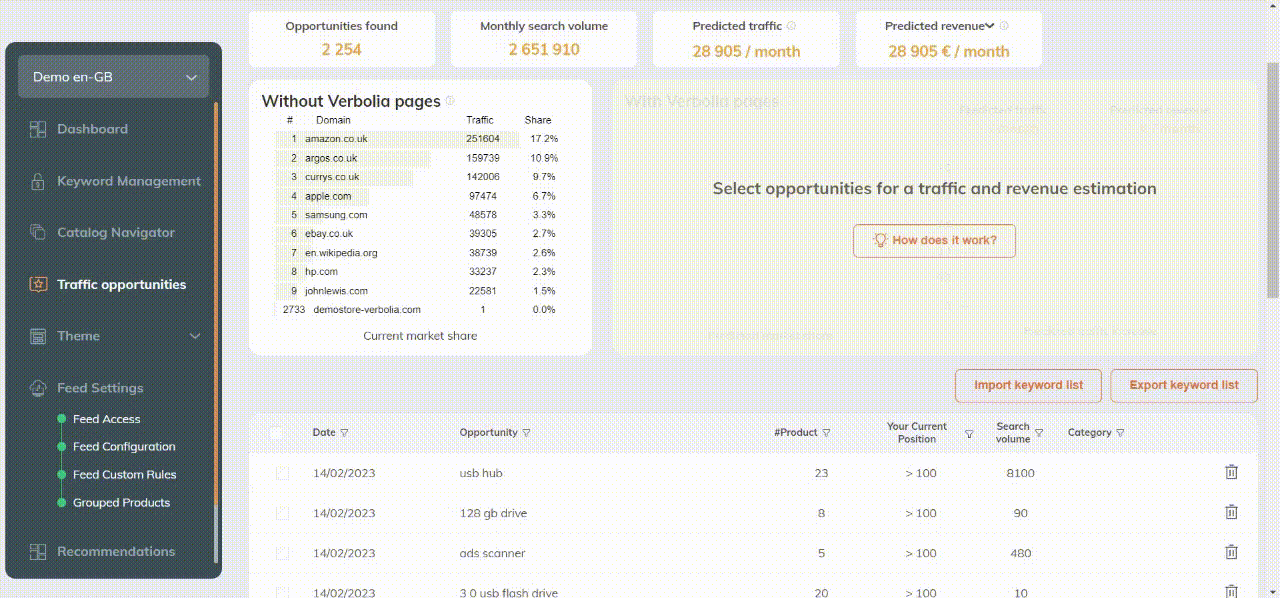 Maximize ROI for e-commerce with Verbolia!
In the fiercely competitive world of e-commerce SEO, staying ahead of the curve is crucial to success. Our traffic opportunity tool offers a powerful solution to the challenge of increasing e-commerce organic traffic and conversions.
By creating product listing pages for keywords found by this innovative tool, e-commerce directors can drive more organic traffic to their online store. Follow the simple steps outlined in this article to launch your own keyword research and unlock valuable traffic opportunities for your e-commerce site.
Don't miss out on the chance to gain a competitive edge – try Verbolia's traffic opportunity tool for free today by submitting your product catalog. No credit card required!