Blog article
Boost your e-commerce sales with long-tail SEO | Key Takeaways from Webinar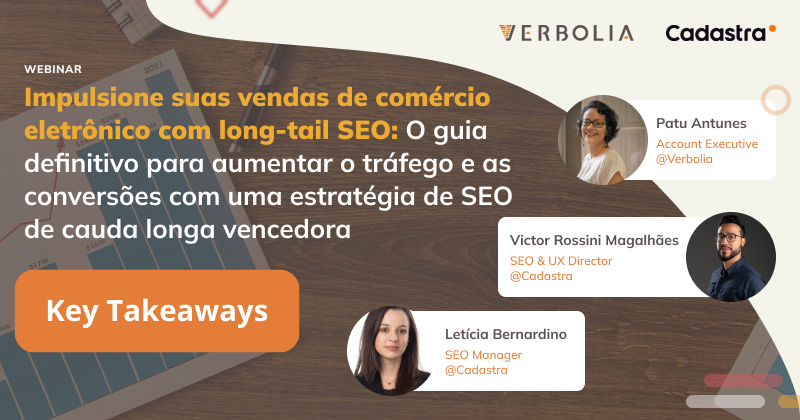 Are you looking to create a long-tail  SEO strategy for your e-commerce website?
Not sure where to begin?
Creating and executing a long-tail SEO strategy can seem like an overwhelming and complicated task. But, with the right tools and resources, any e-commerce site can experience the growth it seeks.
On August 16, we hosted a free webinar, in Portuguese, featuring our Head of Sales for the LATAM region, Patu Antunes, as well as Victor Rossini Magalhães, SEO and UX Director, and Leticia Bernardino, SEO Manager, both from the Brazilian agency, Cadastra, to share their insights on implementing a long tail SEO strategy for e-commerce.
Below are the main takeaways of the webinar. To access the full discussion in Portuguese, please fill out this form.
1. Why is it important for e-commerce businesses to take long-tail SEO into account?
While "top-tail" keywords are highly competitive, "long-tail" keywords tend to be easier to get rankings for.
Although individually they have lower search volume, when ranking for a large number of long-tail keywords, the aggregate of those visits can equal what a couple of long-tail words would bring.
Typically, in the case of an e-commerce site, the pages that satisfy long-tail transactional demands are product pages. Since these are much more consumer-specific queries, the chances of conversion are higher.
In addition, having pages for long-tail queries allows you to increase the number of pages on an e-commerce site, generating more content fields available for internal linking to categories and subcategories.
2. What are the most important elements in a successful long-tail SEO for e-commerce strategy?
There are 4 main steps to be taken before implementing a long-range SEO strategy:
Scenario Analysis
From a macro perspective, what is the current composition of your organic traffic?
You can use tools like Semrush or SimilarWeb to check what percentage of your aggregated traffic is coming from branded or non-branded visits.
You can also do this analysis via Google Search Console where you will have to look at a higher layer of impressions and clicks.
With this breakdown, you can look at the generic keywords that are driving traffic today and understand what percentage of them are coming from long tail pages.
This gives you insight into your website's performance and you can track the growth of this percentage of traffic from long tail pages as you implement the tactical plan.
Alignment with organic channel objectives
It is important, as an e-merchant, to cross-reference these results with the context of your current results and the objectives of the organic channel that will ultimately lead to the main objective of bringing revenue to the site.
In addition, you need to identify the most strategic product categories, those that generate the most traffic!
This will give you important direction to start your tactical plan.
Analysis of search behavior and rollout of optimizations
As explained above, it is often the product detail pages that answer these queries.
So how can we make these pages more optimized?
By understanding, for example, what is the most common order users type in the search field when searching for a particular product, you can standardize the naming.
Let's look at the following long-tail keyword: "Boohoo Printed Pantacourt Pants".
This long-tail keyword can be broken down as follows: Product (pants) + model attribute (pants) + fabric attribute (print) + something brand specific (in this case, the brand name)
Product detail page (PDP) optimization is also about product descriptions. As an e-commerce site owner, you need to think about all the questions a consumer may have before finalizing a purchase and check if you cover all of them in your product pages.
Facilitating the robot crawl process via sitemap and internal linking
It's no secret that search engines, like Google, strive to provide the most relevant and recent content to searchers. So, Googlebot (the search engine's bot) crawls websites to dig up helpful content that will display when people search on Google.
Your sitemap helps search engines understand your site pages and any products you offer, so they can better display your pages to searchers.
Sitemaps can also help guide visitors through your site so they can find what they are looking for and discover products they didn't know existed.
Properly managing your sitemaps will make a big difference in your site's performance.
Other elements to consider
There are other elements of your product pages that you need to be optimised while setting up a long-tail SEO strategy that increase conversion:
Title tags and meta descriptions,
Images that highlight the product in detail,
Breadcrumbs,
Reviews from other consumers.
We recently published an ebook that covers all the key features that should be on a product page to drive conversion.
3. What are the main challenges of implementing a long-tail SEO strategy?
The initial challenge is mainly related to a clear understanding of your current long-tail performance.
For example, say you are an online retailer specializing in fashion, you will most likely have macro categories such as dresses, blouses, skirts, jeans, etc.
The main question you should ask is what are the long-tail words related to these products that you already have good visibility and should grow with?
It is paramount that you understand at what level long tail is responsible for your result and also how much of that keyword's potential you are covering with your category or product pages.
Obviously, you wouldn't gain as much traction with your long tail keywords if you didn't scale them.
They are complex to implement but tend to pay off once it starts converting.
4. How can a long-range SEO strategy be implemented?
A good long tail strategy starts with up-to-date data.  Having access to data such as rankings, search volume, new keywords that your e-commerce site has started to print are requirements for making real-time decisions to activate the pages that meet the user's needs.
So, by understanding which pages meet the long tail requirements, you can direct optimization efforts by focusing on them.
Next, by considering existing pages, such as product detail pages, you can perform audits considering these different seo elements:
Technology: how can you find these pages? Do you have a site map with these pages? Can Google display all the descriptive content of these products?
Content: Do the titles match the search intent? Do the contents answer key questions?
Reputation: Do these pages have internal links? And do other pages link to these structures? Do they have an HTML sitemap with these pages?
Experience: How do the metrics measure the user experience? Are they compliant to Google's Core Web Vitals ?
5. What are some common long-range SEO mistakes that ecommerce businesses make that should be avoided at all costs?
As explained by Victor Rossini Magalhaes during the webinar, they have noticed at the Cadastra level, that some of the big players in the e-commerce space are positioning for negative/adult content keywords.
Therefore, you should analyze which long-tail keywords really fit your case.
Another mistake we see some ecommerce owners make is creating long tail pages for products that they don't sell. It ends up frustrating the customer who wants to buy something that you cannot offer.
6. What are some of the top SEO trends for e-commerce that you see coming in the next few years?
With the continued growth of giants like Shopee and Shein, the scenarios for retailers are becoming even more competitive.
Not because Google has been pointing it out for a long time, but it's essential to look at building your authority in your niche.
You need to think about outreach, such as content partnerships that help spread your expertise. Another important trending factor to implement is to strengthen your pages with internal links that will allow long tail pages to have relevant influence.
Finally, we should not overlook the potential and impact of IndexNow, launched by Microsoft/Bing. This could really be as big a revolution as Caffeine was hundred of years ago 😉
We would like to thank our friends at Cadastra for taking the time to participate in our webinar and share with us some valuable insight on long-tail SEO.
If you would like to watch the webinar replay, in Portuguese, all you have to do is fill out the form below.